Basketball Uniform
Looking for new basketball kit for your club? We offer the highest quality basketball uniforms in Australia. Australian made and the best fabrics. Delivering to all cities, fast. Use our large range of designs and products to suit your basketball group, add logos and colours, even add your own names or numbers.
If you're shopping for a high-quality custom basketball jersey, or want to equip the entire team with a comfortable uniform that's durable enough to last, we've got you covered.
Based in Australia, we provide quality made, ethically sourced custom jerseys and sports uniforms. We provide fast turnarounds, worldwide delivery, and no order is too big or small.

On and Off the Court, We've Got You Covered
Use the online Kit Builder to choose a jersey style and colour scheme, then add logos, numbers and text for no extra charge. Our Kit Builder allows you and your team to create the perfect custom basketball jersey to suit your needs.
By vigorously testing our basketball jerseys, we stand by the quality of our manufacturing, confident they can stand the wear and tear of a tough season.
We even stock a wide range of custom NBA jerseys, sports apparel and accessories for all walks of life. Whether you're an active athlete yourself, or just a true basketball fan, we've got what you need to show your support.
Show what you've got on the court… or the couch.

Custom Basketball Uniforms For The Whole Team
If you're looking to kit out your entire team, or even multiple teams within your club, we can handle any size order with no setup fees and worldwide delivery.
From jerseys and shorts to off-court wear like hats and bags, we'll answer any questions you may have and ensure you and your team receive the perfect uniform and apparel to match.
Our basketball jerseys have a relaxed fit and are made with 160GSM Birds Eye mesh, wicking away sweat and moisture. The option to design the reverse of our custom jerseys even means your team can use the same jerseys for both home and away games.
Our custom basketball jerseys and sports apparel comes in a wide range of sizes for a comfortable fit, fitting to the size and shape of every unique member of the team.

Got Any Questions About Our Custom Sports Apparel?
We love hearing from our customers, so if you've got any questions about our custom basketball jerseys or any of our other custom sports uniforms, we'd love to hear from you.
Not exactly sure what's best for your team, club or current situation? Get in touch with us online today and one of our experts will be happy to help guide you through the process of creating the perfect custom jersey or uniform.
Top 3 Products
5 weeks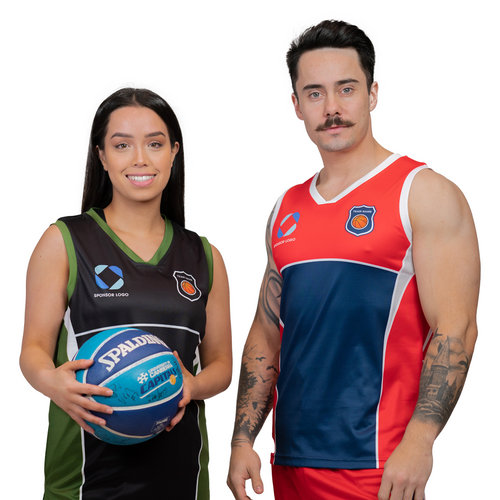 5 weeks
5 weeks