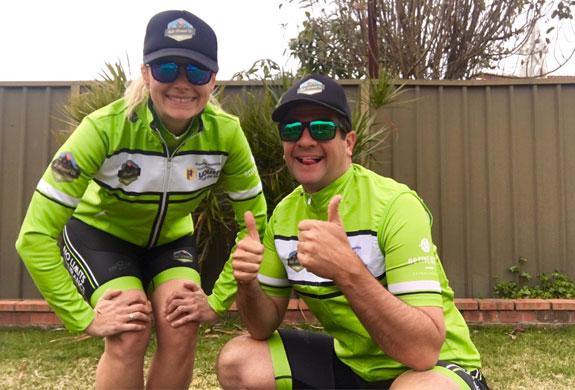 A RIDE AROUND THE PLANET'S 6TH LARGEST COUNTRY
Posted by sun moon on
It's T-minus one day, as Greg embarks on the ride of his life to raise 50k for Youth off the Streets!
ONTHEGO is super proud to be a partner of his Ride Around Oz campaign as Greg cycles a cheeky 15, 000kms around Australia.
We are pumped to follow Greg's journey and you should be too! See details below and be educated, motivated and inspired.
Who:
Ex-overweight, depressed, binge-drinker, Greg McDermott, 34, just 3 years ago lost 30kg, changed his life completely and is now an experienced plant-based endurance triathlete, multiple Ironman finisher & Ultraman Australia 2016 finisher.
What:
Cycling 15,000kms around Australia | Averaging 180km daily (‪8-9hrs) | 79 days duration
When:
Leaving Sydney ‪3rd September, 2016 (returning to Sydney ‪Sat 19th November 2016)
Mission:
Educate, motivate & inspire all Aussies to find their passion, live with purpose and set goals to achieve their dreams because anything in life is possible! Greg is achieving this daily and does so through setting a critical foundation of eating nourishing wholefoods, being active, fostering a positive mindset and setting goals. If an 'average guy' like Greg can turn his life around, anyone can!
Charity:
Aiming to raise $50,000 for Fr. Chris Riley's Youth Off The Streets, to enable them to continue to help disconnected young people to discover greatness within by engaging, supporting and providing opportunities to encourage and facilitate positive life choices.
Why We Partnered With ONTHEGO?
After stumbling across ONTHEGO founder, Mick Spencer via TV, we were instantly attracted to his passion for life and entrepreneurial drive to make a difference in the world, just as we are trying to achieve on a daily basis through educating, motivating and inspiring Aussies to go after what they want in life. Mick and his team are empowering the world through the best, fastest customised product and that's exactly what ONTHEGO has done for us with Ride Around Oz 2016. We've been able to easily design modern customised cycling gear that's manufactured on quality fabrics (which will stand the test of time cycling 80 days straight) and most excitingly we've been able to complete this process in a traditionally unheard of production timeframe of just two weeks. Having this cycling gear for our Ride Around Oz 2016 project means that we are a united force enabling us to spread our brand and message in a consistent way wherever we are, not to mention we needed to be visible on the long dusty road around Australia. For anyone looking for customised team wear for your local sports team or larger charity sporting event and everything in between, ONTHEGO are the leaders in a process that is normally frustrating…but not now that ONTHEGO is here!
More Information:
Event Website - www.gregmcdermott.com.au/events
Fundraising Website - https://ridearoundoz.everydayhero.com/au/ride-around-oz-2016
Facebook - https://www.facebook.com/GregMcDermottTheFruitGuy
Instagram - https://www.instagram.com/thefruitguy